Stocks of Future : D-Mart
RadhaKishan Damani's got the retail chain formula bang-on. But, he's not willing to air his strategy to the world.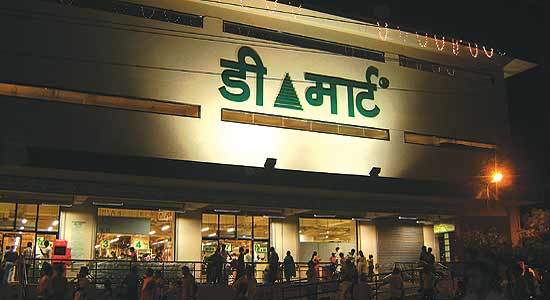 T
hirty-six-year-old advertising professional Subha Rao, who lives in Hiranandani Estate in Thane, Maharashtra, is spoilt for choice when it comes to shopping. If she goes a couple of kilometres in any direction, she'll hit a multi-brand store to shop from. Rao can choose between Reliance Fresh, HyperCity, Aditya Birla More and Big Bazaar. Yet, she shuns these stores. Instead, she goes diagonally to her left and hits D-Mart, a little known, but nonetheless well stocked supermarket where she can buy groceries, vegetables, utilities and even home furnishings.
"The store stocks everything I need regularly, but more importantly, offers good quality products as well as good discounts," says Rao
| | | |
| --- | --- | --- |
| | | |
| | The smaller size of the stores forces D-Mart to only stock products that sell fast, which reduces its write-offs on clogged inventory. | |
| | | |
. "Although the store is now open from 8 AM, which makes it very convenient, it is still very crowded during weekends. But for the long queues at the billing counter, it is the best place to shop."
On the other hand, 30-year-old home-maker Akansha Roy, who lives in the western Mumbai suburb of Malad and is equally spoilt for choice, is not entirely in agreement. She rates HyperCity or InOrbit very high as her favourite shopping destinations. Despite this, she cannot ignore D-Mart, which is just across the road from her house because it offers the convenience of anything, anytime. "When it comes to a quick replenishment of grocery items or fruits and veggies, I prefer D-Mart because it is really convenient," she says.
For a retailer, this certainly is the sweet spot of positioning: to be on the destination list of people like both Rao and Roy. D-Mart offers everything they need. It is only for objects of high fashion that Rao or Roy need to shop elsewhere
| | | |
| --- | --- | --- |
| | | |
| | "They have the right assortment of products and are well priced. The company's got the basics of retailing right" | |
| | | |
. The retail landscape is constantly reverberating with sound bytes from Big Bazaar, Hypercity and other giants of retail, D-Mart has quietly snuck in and settled into a niche. Its customers are value-conscious middle-class families who prefer its modestly-sized outlets to swanky malls.
Unique Strategy
The nine-year old D-Mart has established itself firmly in the new retail topography of urban India because it works on a rather unique business model. The strategy is quite simple, yet it is one that, in its nuances, has helped the company achieve quick profitability; it is a concept that the big boys still wistfully sigh at. D-Mart sets up stores in dense residential complexes. So it is assured of a clientele that walks in because it wants to buy and not just browse.
Secondly, the company buys these stores. It does not rent them out. This means that there will not be 1,000 D-Mart outlets in the next 12 months, but that does not matter since even the five-year olds who pop into its stores know how the story of the hare and the tortoise worked out.
Thirdly, the company pays its vendors in two days and because of this the vendors are happy to sell to D-Mart at a further discount, which the store passes on to the customer.
| | | |
| --- | --- | --- |
| | | |
| | "As long as there are consumers available it doesn't matter whether the store is in a mall or in the street." | |
| | | |
The smaller size of the stores also forces D-Mart to only stock products that sell fast, which reduces its write-offs on clogged inventory.
Thanks to these four simple strategies, this small chain, owned by stock market icon Radhakishan Damani, is a profitable venture—unlike the bleeding giants in the retail sector. In FY10, its net profit grew more than four-fold over the previous year to Rs 21 crore, on revenues of Rs 1,100 crore (65% growth). The interest on loan taken for buying property is never more than 12% to 13%, which, in the long run, will be much less than paying rentals, which constitute about 30% of the operating expenses of a retailer and keep escalating every few years.
Size Does Matter
D-Mart stores are much smaller in number and size compared to those of retail giants such as Future Group (Big Bazaar) Aditya Birla Group (More) and Reliance Retail.
| | | |
| --- | --- | --- |
| | | |
| | D-Mart's debt at end of FY10 stood at just Rs 148 crore in FY10 the figure for rival Pantaloon Retail was Rs 4,352 crore. | |
| | | |
Big Bazaar has more than 200 stores across the country, D-Mart has just 46 across Maharashtra, Gujarat, Andhra Pradesh and Karnataka. The average size of a Big Bazaar store is around 50,000 sq ft; the average size of a D-Mart —8,000-10,000 sq ft. Big Bazaar stocks 3,000 to 4,000 SKUs (stock-keeping units) of merchandise; D-Mart—800 SKUs. Nevertheless, it sells everything an average Indian household requires, from rubber bands and hammers to unrefined jaggery and prayer beads.
While D-Mart's debt in FY10-end stood at just Rs 148 crore, Future Group, the parent company of Big Bazaar, has accumulated debts to the tune of Rs 4,352 crore. Similarly, the Rs 1,450 crore Aditya Birla Retail, which started out in 2007, hopes to touch a revenue of Rs 1,700 crore this fiscal and is yet to break-even.
| | | |
| --- | --- | --- |
| | | |
| | "D-Mart's strategy of buying properties at prime locations is a double-edged sword." | |
| | | |
Reliance Retail, the holding company of the group's individual retail ventures has sales of Rs 290 crore and loss of Rs 190 crore on a net worth of Rs 5,715 crore during FY 10. While, consolidated sales for all retail ventures of the Reliance Group rose to Rs 4,500 crore, it made no profits.
It started operations in 2006. Damani's D-Mart, which set up its first store in Mumbai in 2002, has been profitable since FY07.
In the stock market, Damani is known for constantly investigating and identifying new buy and sell targets. His retail moves mirror this strategy—he believes in continuous endeavours to "investigate, identify and make available" new product categories for customers. But Damani is tight-lipped about the specifics. "I'm not ready to talk about my (retail) strategy," he said.
| | | |
| --- | --- | --- |
| | | |
| | D-Mart is the most profitable retail company in India. Its retail model has caught the attention of private equity players. | |
| | | |
An email sent to D-Mart CEO Neville Noronha remained unanswered.
Damani's retail model is quite different from the rest. He does not believe in renting commercial buildings or malls. For him, owning real estate in prime locations, with good pedestrian traffic, is the way to go. Almost 30% of a retailer's costs go towards rentals. Most Big Bazaar stores are in malls. The retailer spends close to Rs 50-Rs 60 per sq ft. Therefore, for a 50,000 sq ft store, the retailer would be spending close to Rs 30 lakh a month on rent. In contrast, D-Mart, by owning its stores, makes a huge saving on rentals. Moreover, it has chosen to keep store size small—almost a sixth of Biyani's Big Bazaar. So, even if D-Mart was to take stores on rent, the outgo would be just about Rs 4.8 lakh per month.
Damani's strategy of owning real estate leads to a capital outflow in the beginning, but shields the company from future uncertainties. Location is an important component of retail. Therefore, if a retailer is renewing a rental lease after nine years, the owner can easily arm-twist him into paying a ludicrously high rent.
"D-Mart's strategy of buying properties at prime locations is a double-edged sword. While leads to a strain on cash-flows in the short run, it presents a significant upside as the areas develop and realty prices increase," says Mritunjay Kapur, Managing Director, Protiviti Consulting. While retail rentals in Mumbai have remained almost stable in the last two years, a report by real estate consultant Axiom Estates says it will not take too long for mall developers to renegotiate contracts with retailers as the retail industry is showing early signs of revival. Damani can hope to sit back and laugh when rentals move northwards.
"Companies such as Future are in the red not so much for their real estate strategy, but because they have expanded too aggressively," remarks a Delhi-based property consultant. Damani's conservative strategy helps him build assets on the way and remain in the black. Since the company did not go on an expansion blitzkrieg, it did not need to borrow heavily. The promoter's equity is high and debt is low, so the balance sheet can take the impact of the interest cost the company accrues to buy the stores.
---
The Small Wonder

Though small in comparison, D-Mart has big numbers to speak for its profits and a tight grip over debt.

---
Scale Versus Profits
Damani has given the thumbs down to scalability for the sake of profitability. And rightly so. The first D-Mart store opened in 2002, and in the last nine years the retailer has taken the count to just 46 stores. In contrast, Aditya Birla Retail has 650 stores since its launch in 2007 (most of them were acquired when the company bought out the South India based Trinetra group) and Reliance Retail has come up with 1,000 stores since 2006. This measured expansion policy helped D-Mart fight the economic slowdown in 2008-2009 successfully. D-Mart was the only retailer that didn't close a single store.
Reliance Retail, after opening 1,000 stores in 86 cities beginning 2007, had to shut down and re-size around 400 stores in 2008 as they were bleeding. ABRL shut down 160 stores while Future group had to get out of its niche format stores like BlueSky and Fashion Station to cut costs. Rapid expansion also leads to rapid losses.
"D-Mart is targeting not more than 10 to 12 stores a year in the foreseeable future," says a source, familiar with the company's strategy.
To Mall Or Not ?
While all large retailers are counting footfalls, Damani has chosen to go in another direction. He prefers to set up smaller stores within a neighbourhood. Most malls work on a rental basis. Therefore, D-Mart, which believes in the ownership model, would not even be welcomed by mall owners.
According to Harminder Sahni, Founder, Wazir Advisors, for a format like D-Mart, it's the location that matters with respect to the primary catchment, ie, people living within a 2 km radius of the store. "As long as there is a critical mass of consumers available in the primary catchment it doesn't matter whether the store is in a mall or in the street."
The other question one needs to ask is whether a store, not housed in a mall, would have to compromise on footfalls and therefore conversions. Not at all. One of the reasons most FMCG companies are more than eager to supply to D-Mart is because of its high turnaround. While inventory comprises 25% of sales for Pantaloon Retail, the number for D-Mart is only 6%. This shows that D-Mart has very little inventory, about 21 days, on an average, compared to 90 days for Pantaloon Retail.
Limited SKUs & Higher Discounts
The biggest incentive for consumers to shop in D-Mart is the guaranteed discounts. The discounts range from 2% to 10%, unlike other retailers, whose discounts are limited and never guaranteed.
"D-Mart may be much smaller in size and may have lesser SKUs, but they are always well-stocked. They have the right assortment of products and are also well priced. The company has got the basics of retailing right," says Pinaki Ranjan Mishra, Partner & National Leader (Retail and Consumer Practice), E&Y. The biggies seem to be struggling with these—they seem to be stocking everything and yet missing out on many things.
Though some consumers feel that D-Mart doesn't give them an adequate choice of brands and wider range of products such as varieties of cheese, breads, seafood and so on, the industry believes that it is prudent to have limited offerings and offer better prices instead. Damani seems to be following the Pareto Principle here —focus on 80%, the most crucial of the products—and give up the 20% for which hypermarkets exist anyway.
How is D-Mart able to offer higher discounts compared to the rest and yet remain profitable? The secret: unlike other retailers who work on a credit system, D-Mart believes in paying cash outright.
"D-Mart gets better discounts from us because unlike other retailers, they repay us within two days. That's a guarantee from them, and for us it's almost like selling for cash. Other retailers have a credit cycle ranging from 15 to 60 days," says a vendor who supplies D-Mart. The result: vendors give big discounts to D-Mart (anywhere between 5% to 12%), which the retailer passes on to consumers. Typically, the longer the credit period, the longer the vendor's working capital cycle. And he has to resort to short-term borrowings to fill the gap in cash flow. So vendors ask for higher prices to compensate for the interest burden it puts on them. But this is not the case with D-Mart.
"We are happy to give higher discounts to D-Mart because they not only pay us immediately, their stocks move much faster than any other retail store," remarks the supply chain head of a leading FMCG company. The discounts at D-Mart are substantially higher and we have had to tell them to cut down the discounts as it impacts sales of our products in other stores," he adds.
Future hazards?
Akshaya Kumar, Managing Director, of real estate consulting company, Parklane Advisors, says D-Mart has been bang on, in terms of the timing of buying property.
"They have bought out properties at the right time at good, competitive pricing, but it may not always work to their benefit." The D-Mart property in Malad, for instance, was bought around eight years ago, when the rates were in the region of Rs 2,000 per sq.ft. Malad was an upcoming residential area and didn't have any modern retail stores to boast off.
"The timing was perfect. But buying property in Malad now (it is in excess of Rs 15,000 per sq ft) to set up a store could be suicidal," explains Kumar. So if Damani has to put up another store in Malad now, the economics may not work out. And that—the ever increasing real estate prices—remains a challenge as Damani looks to expand further.
For now, the truth is that D-Mart is the most profitable retail company in India. Its 'different' retail model has also caught the attention of private equity players. Norwest Venture Partners, Sequoia Capital, New Silk Route and HDFC Private Equity, are known to have expressed interest in the company. The Future Group, the company that set the multi-brand retail segment on a roll in the country, has accumulated debt of Rs 4,352 crore without owning properties and is still reeling under losses. Here is a company that not only makes profits but also owns its properties.
Today, the financial situation of the Future Group puts it in an uncomfortable position—it can't expand anymore, it has to improve store sales and squeeze out efficiencies to be able to repay its debt. Borrowing more to expand is not an option. In contrast, with a profitable venture in hand, D-Mart is in a far more comfortable position to expand. Whether Damani would go down that road is a question that can only be answered by time. But the fact is, he can.
Biyani better be worried, Damani is coming.
RK Damani made his money on the bourses, then invested in his own brainchild. now, D-Mart's competing with the big boys.
B
all bearing trader, stockbroker, stock market investor…
Radha Kishan Damani
has donned many hats in a long career. In his latest avatar, he's a retailer, and is the
promoter of D-Mart
, one of India's most profitable retail chains.
After raking in the moolah in the stock market during the '80s and '90s, Damani suddenly quit after the crash of 2001. Over the next few years he focused on his other passion: retail. He slowly built D-Mart into a chain, and it now has 47 stores across Maharashtra, Karnataka, Gujarat and Andhra Pradesh.


At a time when the Birlas (More), Mukesh Ambani (Reliance) and Kishore Biyani (Future) are struggling to get the retail recipe right, Damani seems to have perfected it. His model is simple and differs from that of the bigger players. One, he doesn't go to upmarket malls to set up outlets; dense residential complexes is where D-Mart prefers to plant its flag. Two, Damani buys his own real estate rather than leaving the business to the whims of owners who can hike rents at will. Three, D-Mart keeps the store size small, stocking only fast-selling products. This reduces write-offs on clogged inventory. Lastly, D-Mart pays its vendors within two days unlike other retailers, who pay after 15-30 days. So vendors give discounts to D-Mart for prompt payment and these discounts are passed on to buyers, improving footfalls and customer loyalty.


On a turnover of Rs 1,100 crore, D-Mart made a profit of Rs 21 crore in FY11. Damani now wants to take D-Mart pan-India, but at his own pace. For him, profitability comes before scalability. That approach has made D-Mart the brightest star on the retail horizon in India.
Source : RASHMI K PRATAP

,

AJITHA SHASHIDHAR, http://business.outlookindia.com
------------------------------------------------------------------------
Damani's D Mart mulls pan-India footprint



D Mart

, the

R K Damani

-promoted retail chain, is planning to go national in the next couple of months, by opening stores in 'key' cities such as Bangalore, Delhi and Hyderabad.

The nine-year-old chain would add at least 25 stores in the next one year to its existing 33 stores in Maharashtra and Gujarat, said an executive with D Mart. The retailer recently opened a 25,000 sq ft store in Hyderabad. R K Damani is one of the biggest stock market investors in the country.

"We will open stores wherever we find the right opportunity. We will mostly focus on key cities," said the executive.

Though D Mart was among the few retailers who owned properties rather than leasing these out, it is also looking at taking properties on rent to increase its footprint.

D Mart's expansion plan coincides with the plans of other retail majors, such as Bharti Retail and Reliance Retail, who have already hit the expansion trial, following recovery in economy and consumer spending.

"We want to be good at what we do. We know we want to match up to the competition, if we need to survive and grow," the executive added. For instance, D Mart does not retail its private labels, as it does not have the scale to do so, while retailers such as Kishore Biyani's Future Group, Aditya Birla Retail and Reliance Retail have invested in private labels.

According to consultants, D Mart's slow expansion became a boon for it as last year's economic slowdown proved painful for retailers, especially for the mid-size ones, as customers curbed spending to save cash.

While Chennai-based Subhiksha shut 1,600 stores after defaulting on loans, Delhi-based Vishal Retail is struggling with its corporate debt restructuring (CDR) cell. While Mumbai-based Foodland Fresh and Delhi-based Triveni Engineering shut all their stores, Wadhawan group-promoted Spinach has closed over 60 stores in the last 18 months.

"They (mid-size retailers) expanded too much, too fast. That is the reason they went down. If they (D Mart) can grow slowly, they can do well," said Anand Raghuraman, partner and director at Boston Consulting Group.
Mid-level retailers show the way big boys falter
While retail biggies are still working overtime to cut losses, mid-level chains are walking away with profits, low debt and steady growth plans.
D Mart clocked Rs2,400-crore sales in FY12 - 40 per cent more than what the 55-store chain did in the previous financial year.
The sales of the city-based entity, promoted by stock broker R K Damani, were 92 per cent more than national retailer Spencer's Retail's Rs1,251 crore. The mid-level retailer's sales were better than even another national retailer - Aditya Birla Retail. Though its FY12 numbers are still not out, analysts say Aditya Birla Retail will not be able to clock sales of more than Rs2,000 crore, given that it closed down 50 supermarkets to stem losses. Its 2010-11 numbers were Rs1,637 crore.
The 12-year-old D Mart is not only profitable at the entity level, but most of its stores are also in the black, says a company executive. Spencer's, on the other hand, is still making losses. (It posted Rs220-crore losses in FY12.)
While retail biggies are still working overtime to cut losses, mid-level chains are walking away with profits, low debt and steady growth plans.
Take for instance, Bangalore-based Namdhari's Fresh, a unit of seeds producer Namdhari Seeds. Its chairman and managing director, Uday Singh, says the chain- which runs 20 stores in Karnataka's capital city-attained cash break-even last year and is looking at four per cent profit at net level this financial year. The company has negligible debt on its books, and the chain is looking at a sales growth of 20 per cent this year.
In Chennai, electronics and durables retailer Vivek's also has a similar story to tell. "The company is 100 per cent profitable and 99 per cent of our stores are profitable," says its 73-year old chairman and managing director B A Kodandarama Setty. He, though, does not want to disclose profit numbers as the chain is privately held.
It posted sales of Rs440 crore in FY12, and is looking at a revenue growth of 32 per cent growth in the current financial year. The chain has 47 stores and plans to add 10 more in FY13.
So, what makes the regional, mid-level retailers click?
Low overheads, strong supply chains and consumer connect are three things that have made these low-profile chains successful in the markets they operate.
D Mart, for instance, pays its suppliers within 48 hours of delivery, making two-three per cent additional gross margins which it passes on to consumers. Most of the retailers buy goods on credit from suppliers on 30 to 60 days' credit.
D Mart stores are six-seven per cent lower in prices in most of the locations, says an Aditya Birla Retail executive. D Mart's biggest benefit is it owns 48 out of the 55 stores it operates, thereby saving six-10 per cent of sales which goes towards rent.
"They do not spend much on interiors unlike bigger retailers who spend a bomb on them," says the executive. "Besides, they open stores in inexpensive neighbourhood locations."
Hyderabad-based Heritage Fresh and Namdhari's have made retailing of fruits and vegetables their core strength which is not a favourite area for many big retailers due to lower margins and wastage of around four per cent due to lack of proper supply chains.
Heritage Fresh, promoted by former Andhra Pradesh chief minister N Chandrababu Naidu, sells two times more fresh fruits and vegetables than the local supermarket in the city. It has built two pack houses in Shantipuram in down-state Chittur district and the capital Hyderabad, to process fresh produce. The first facility handles 200 tonnes per day and second one handles half of that.
Since its parent, Heritage Foods, has dairy and bakery units, the retail arm sources most of its requirements from them. Besides, 50 per cent of its back-end revenue comes from other retailers who use its services.
"It is a challenge to handle fresh produce," says S Jagdish Krishnan, chief operating officer, retail and bakery divisions, at Heritage Foods. "For, it goes through the farmer-broker-wholeseller-retailer chain which roughly takes a day.
If we work along with farmers and process it quickly, we can sell it profitably." Besides, it also has a 50-member team which procures 55 per cent of its fresh produce locally in the areas where it operates.
Though Heritage Fresh is not profitable at the entity level, Krishnan expects that to happen soon with better cost management and limited expansion.
Singh of Namdhari Fresh says 50 per cent of sales come from fresh produce. Its USP: Fruits and vegetable with low pesticide residues and good quality produce. Its parent Namdhari Seeds either grows fruits and vegetables or goes for contract farming.
"Though prices are higher in organic vegetables, we guarantee the quality of the produce," says Singh of Namdhari's Fresh. "There are loyal customers for that. We are competitive in commodities such as potatoes and onions."
Big national chains have not been able to make their mark in fresh produce, says Harminder Sahni, chairman and managing director of Wazir Advisors, a retail consultant. "Most of the fresh produce becomes stale by evening. They cannot compete with local hawkers in most of vegetables and fruits," Sahni says. "You can manage that if only you have strong supply chains."
Vivek's, says its chairman Setty, has built strong customer connect and back end support.
It has one of the largest multi-product, multi brand service centre in the country, where 400 service staff and 120 skilled technicians work, who provide after-sales, collection and delivery services to customers in Chennai.
So whenever a customer buys a big product like air-conditioner, its service centre is informed about the purchase which in turn calls the customer and says it will send technicians to install it. Its technicians get in touch with customers and install it.
"Since we are in 14 locations in Chennai, customers need to travel only three kilometers in Chennai to reach our stores," Setty says,
There are some challenges as well. "Getting the right talent and right properties are the big challenges," says a D Mart executive. While D Mart is at least expanding in the South and wants to be a pan-India player, others such as Namdhari's and Heritage are content with being confined to their home markets.
As against his earlier plans to open 100 stores, Singh of Namdhari's says the chain would open just three to four more stores and consolidate it base in Bangalore. "We will grow our retail business slowly. We are seed growers and retail is forward integration for us," he says.
Similarly, Heritage had to struggle in Bangalore and close stores which are dominated by hypermarkets such as Spar, Big Bazaar and others within a radius of 1to 1.5 km radius.
"Stores of 2000 to 3,000 sq ft tend to struggle in Bangalore which has many hypermarkets. We are devising a different strategy for Bangalore," says Jagdish of Heritage.
The chain, he says, will focus on dominating its main markets such as Hyderabad and Chennai before expanding into others.
Source
:Raghavendra Kamath,BS ,

http://www.business-standard.com ,
http://www.afaqs.com
-------------------------------------------------------------------------------------------------------------------------------------------------------------------
Info about D-Mart :
http://www.dmartindia.com

Avenue Super Marts Ltd.

Avenue Super Marts Ltd (ASL) owns and operates hypermarkets and supermarkets by the store name D-Mart.

D-Mart seeks to be a one-stop shopping destination for the entire family, meeting all their daily household needs. A wide selection of home utility products is offered, including foods, toiletries, beauty products, garments, kitchenware, bed and bath linen, home appliances and much more.

Since D-Mart first opened its doors in the Mumbai region in 2000, it has grown into a trusted and well-established shopping destination in Maharashtra, Gujarat, Andhra Pradesh and Karnataka. D-Mart is now looking forward to growing its stores across India.

Culture

At ASL, we're strong believers in deriving excellence in customer service through systemic training and rigor at work. We value simplicity and humility in our people and strongly believe that integrity and merit is the only route to growth at ASL.We hire professionals who share our values and unabashedly lead by example.

Vision

It is our continuous endeavor to investigate, identify and make available new products/categories for the customer's everyday use and at the 'best' value than anybody else.

Presence

D-Mart's expansion began in 2007, when stores were opened in Ahmedabad, Baroda, Pune, Sangli and Solapur. Today D-Mart is established in 59 locations across Maharashtra, Gujarat, Andhra Pradesh and Karnataka, in:
Mumbai

Navi Mumbai

Thane

Pune

Solapur

Sangli

Kolhapur

Amravati

Jalgaon

Ichalkaranji
Ahmedabad

Rajkot

Baroda

Surat

Anand
D-Mart

offers a wide selections of products in the following categories:
Foods

Toiletries and Beauty products

Garments

Kitchenware

Bed and Bath linen

Toys & Games

Stationery

Home Appliances

Footwear